The Unitarian Universalist Church of Tampa, conveniently located near Fowler Avenue and I-75, is nestled in a forest that has the feeling of a sacred space. We welcome rentals for life events. Call our office at 813-988-8188 on Tuesday or Thursday from 9 a.m. to 1 p.m. for rental information.
Our buildings and grounds are primarily maintained by volunteers who are invited to join us on the second Saturday of every month from 9:00 a.m. until noon to help keep our property vital and beautiful.
The UUCT campus with "The DOME" sanctuary (at left) is a genuine icon — not just in Tampa, but throughout the Unitarian Universalist Association. Frequently, visitors from near and far show up at Sunday services saying they "…just had to see…" the Tampa UU Dome and the beautiful grounds including our lovely gazebo (below).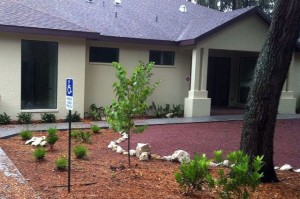 Others are eager to see our latest addition, the Multipurpose Building (left), the perfect facility for parties, weddings, club meetings, you name it. Come see for yourself Sundays at 11:00 a.m. We'll answer your questions, show you around, and do whatever we can to make you feel "At Home in the Dome" and anywhere else on our campus.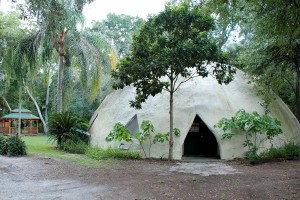 And let's not forget our "Small Dome" (at left).
The Small Dome was our first sanctuary back in the day when our membership was far smaller and we were just beginning to grow. Today it is used by a variety of individuals and groups including rehearsing musicians, our choir, the SHAAG Group, families for parties of all kinds, and many committees and organizations from our membership as well as from the surrounding area.
All of these facilities are here for our members to enjoy, and for our friends from throughout the Tampa Bay Area to rent at very attractive rates.
Here are the contacts you need if you want to know more about our facilities or are interested in renting space from UUCT for your next function or event.
GET INVOLVED! DONATE -- SHOP AMAZON.COM -- VISIT US SUNDAYS

| | |
| --- | --- |
| | You can support UUCT every time you shop Amazon.com -- and it costs you nothing. Be sure you access Amazon at left. Then, Amazon will donate a portion of your total bill to UUCT out of their profit. Thank you for shopping Amazon via our website! |
| | Please click this secure link to donate to UUCT or to buy event or concert tickets. Ticket buyers: enter the amount of your purchase in the appropriate box, and then provide the name and date of the activity you're attending. Your tickets will be held at the door. |