This is the venue for

Concerts in the UU Dome:
Unitarian Universalist Church of Tampa, 11400 Morris Bridge Road, Tampa, FL 33637 813-988-8188- Put this address in your GPS and you'll come right to us. Tickets are available in advance online and at the door. Scroll to bottom of page to pay on line.
***********************************************************************************************************************
S   u   p   p   o   r   t      L   i   v   e      M   u   s   i   c   !
*********************************************************************************************************************** CONCERTS IN THE UU DOME PRESENTS: Unitarian Universalist Church of Tampa-11400 Morris Bridge Road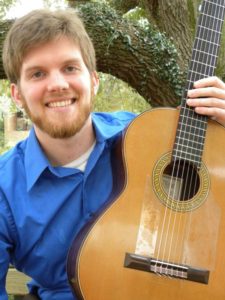 **** Classical Guitarist Zachary Johnson with Pianist John Hernandez opening****

Sunday, June 12, 2016 AT 3:00PM
This is a FREE concert, Love Offering Appreciated
http://www.zacharyjohnsonguitar.com
https://www.youtube.com/watch?v=ljQBHf2FLlg      Albeniz, Op.47, No. 3 – Sevilla
ABOUT ZACHARY JOHNSON:  Zach (who lives in Sarasota)  is a classical guitarist.  Zach will be presenting a concert program  featuring solo classical guitar works of Jobim, Weiss, Barrios, Ponce, and more.   To say that Zach has impressive credentials is an understatement.   He  received full scholarships to Yale, Stetson and FSU (Fla State University).   His teachers included Benjamin Verdery, Dr. Stephen Robinson, and Bruce Holzman.  After receiving his Bachelors' Degree  from Stetson,  he received his Masters Degree from Yale, and in 2011 he received his  Doctorate of Music from FSU.  His Doctoral treatise, The Solo Guitar Works of Sir Richard Rodney Bennett, has been published by LAP Academic Publishing and is available on Amazon.com  .  Zach has  performed and studied in master classes with many esteemed guitarists.  He has traveled to Italy to study with Andres Segovia's protégé, Oscar Ghiglia, at the Accademia Musicale Chigiana in Siena. His experience as a teacher:  -Stetson, Adjunct Professor of Guitar;   -Tallahassee Community College, Adjunct Professor of Guitar;   -FSU, Visiting Adjunct Faculty;  -Sarasota Suzuki Institute, Creator and Head of Suzuki Guitar Program;    -Thomasville Road Academy of the Arts, Head Guitar Teacher;  -Mason's School of Music, Head Guitar Teacher;  -Florida Enrichment Academy, Artistic Director.
Per Zach: I began studying music at nine, but on the piano and clarinet.  It was not until I was twelve that I discovered the classical guitar. From my first lesson, I was hooked.  The instrument has repaid my passion for it by helping me to accomplish things I never dreamed of: attending the finest universities, studying with the current great masters, taking me across America and to Europe to perform.  I am happy to be able to share my love for the guitar and its music with you!"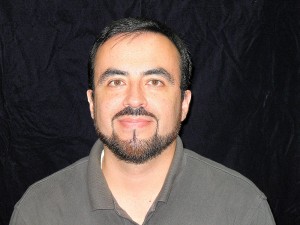 ABOUT JOHN HERNANDEZ:    We're happy to announce that John, a native of Ecuador who now lives in Tampa,  is participating in this concert.  He will  do an opening set.
John is a talented and versatile pianist who has  received many awards and accolades; ie, he has won national competitions in Ecuador, including  the Guillermo Wright Vallarino Competition, the Cultural Merit for Outstanding Musician by the City Hall of Loja, and the German Cultural Center Competition.  After receiving these recognitions, he became the youngest artist to be appointed to the Home of Culture of Ecuador.  His versatility as a musician has also led him to record for the soundtrack of the film "The Demoralization of Richard Engelsbird," as well as "The Anthology of Ecuadorian Music," a CD compilation of the most well known music of Ecuador.
He holds a Master's Degree in Piano Performance from the University of Louisville; a Bachelor's Degree with Distinction from Salvador Bustamante Celi National Conservatory of Music; and a Performance Diploma with Highest Honors from Rimsky Korsakov Conservatory of Music in Ecuador.  He currently works with the Tampa Bay Children's Concert Chorus and various local ensembles.  Also, to the delight of the members of the UU Church of Tampa, he is the church's primary pianist.
---
**** Brendan Nolan****
Sunday, August 21, 2016 AT 3:00PM
*************************** IT'S EASY TO PURCHASE TICKETS TO OUR CONCERTS Tickets are always available both at the door, as well as online where you can purchase by credit card or check in advance. To buy online, just go to the bottom of this page and click on "Donate Now." You will be taken to the payment page where you will find a "Concert" block with an adjacent "Explanation" block. In the "Concert" block, enter the applicable dollar amount. In the "Explanation" block, type in the concert details such as "2 tickets for John Smith Concert." Your online receipt will be your ticket, providing entry to the concert. Be sure to print your receipt and bring it with you! Use our secure donation section for gifts, pledges, and event tickets. Just click the "Please Donate" button below. And thank you! **************************
Watch this page for news about other concerts. New shows post here as soon as they're scheduled!
Gloria Holloway, Concert Chair
gshello@tampabay.rr.com  or  813-837-6572
The "Concerts in the UU Dome" series has been ongoing since 1996. Your
continued support of the concerts is much appreciated. Here's to the next
20 years!
**********************************************************************
GET INVOLVED! DONATE -- SHOP AMAZON.COM -- VISIT US SUNDAYS
| | |
| --- | --- |
| | You can support UUCT every time you shop Amazon.com -- and it costs you nothing. Be sure you access Amazon at left. Then, Amazon will donate a portion of your total bill to UUCT out of their profit. Thank you for shopping Amazon via our website! |
| | Please click this secure link to donate to UUCT or to buy event or concert tickets. Ticket buyers: enter the amount of your purchase in the appropriate box, and then provide the name and date of the activity you're attending. Your tickets will be held at the door. |