This is the venue for

Concerts in the UU Dome:

11400 Morris Bridge Road, Tampa, FL 33637
813-988-8188-

Put this address in your GPS and you'll come right to us.

Tickets are available in advance online and at the door.

Scroll to bottom of page to pay on line.


SUNDAY, DECEMBER 3, 2017 AT 4:00PM

COST: $15 advanced; $20 door


Songwriters seem to flourish on the fertile Oklahoma plains. Woody Guthrie, Roger Miller, Leon Russell, J.J. Cale and Jimmy Webb. Add Verlon Thompson to that list.
Thirty years as a professional songwriter and traveling troubadour serve as credentials. As a solo performer, and as the trusted sidekick of the late Texas Americana songwriting icon Guy Clark, Verlon has viewed the world from stages everywhere from Barcelona to Binger (his hometown in Oklahoma). Along the way Verlon Thompson compositions have been recorded by Jimmy Buffett and Alan Jackson, Anne Murray, The Nitty Gritty Dirt Band, Kenny Rogers, Randy Travis, Del McCoury, Sam Bush, Trisha Yearwood and many more. Equally important in his songwriting and live performances, Verlon's guitar work cannot go unnoticed. His guitar can be heard on recordings by Restless Heart, Pam Tillis, and many more, including, and especially Guy Clark.
Verlon has co-produced Guy Clark's Grammy nominated cd "Cold Dog Soup" as well as "The Dark", "Workbench Songs" and "Somedays the Song Writes You".
As the in-house musician for Genuine Human Productions (genuinehuman.com) Thompson scores themes and background music for documentaries and special film projects. Verlon Thompson is currently on the road. Or in the studio. Or writing in his bunkhouse on the river in Tennessee…   but never far from the fertile plains of Oklahoma.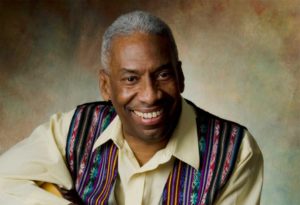 REGGIE HARRIS

SUNDAY, DECEMBER 10, 2017 AT 1:00PM – COST: TBD
Songs of Joy, Hope and Freedom
**********************************************************************************************************************
S   u   p   p   o   r   t      L   i   v   e      M   u   s   i   c   !
**********************************************************************************************************************
IT'S EASY TO PURCHASE TICKETS TO OUR CONCERTS Tickets are always available both at the door, as well as online where you can purchase by credit card or check in advance. To buy online, just go to the bottom of this page and click on "Donate Now." You will be taken to the payment page where you will find a "Concert" block with an adjacent "Explanation" block. In the "Concert" block, enter the applicable dollar amount. In the "Explanation" block, type in the concert details such as "2 tickets for John Smith Concert." Your online receipt will be your ticket, providing entry to the concert. Be sure to print your receipt and bring it with you! Use our secure donation section for gifts, pledges, and event tickets. Just click the "Please Donate" button below. And thank you!
Gloria Holloway, Concert Chair gshello@tampabay.rr.com  or  813-837-6572
The "Concerts in the UU Dome" series has been ongoing since 1996. Your continued support of the concerts is much appreciated. Here's to the next 20 years! 
GET INVOLVED! DONATE -- SHOP AMAZON.COM -- VISIT US SUNDAYS



When you shop at Amazon Smile you'll find the exact same shopping experience as Amazon.com be sure to to select

"Unitarian Universalist Church of Tampa"

Then, Amazon will donate a portion to UUCT out of their profit. Thank you for shopping Amazon via our website!
Please click this secure link to donate to UUCT or to buy event or concert tickets. Ticket buyers: enter the amount of your purchase in the appropriate box, and then provide the name and date of the activity you're attending. Your tickets will be held at the door.