Before the service
Our wooded campus is located on Morris Bridge Road, where Morris Bridge intersects with Fowler Avenue, just west of I-75. After you find a parking place (there are visitor places on the left as you pull in from Morris Bridge Road and much more as you drive through the campus), please find your way to the large dome which serves as our sanctuary.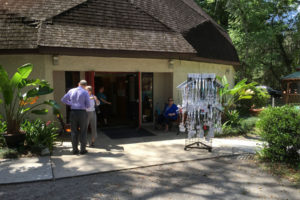 You will be greeted by several members who will give you a name tag answer any questions, and provide a contact form.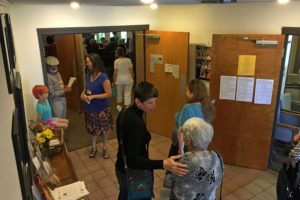 Children of the UUCT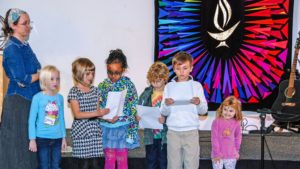 Children are very important to us, and we have a wonderful Children and Youth Religious Exploration (RE) program. For more information about our RE program, check out https://uutampa.org/childrens-education/
Families of children who will join Religous Exploration programming need to sign in/out your children for the RE program at the small table just inside the sanctuary dome.
Children generally join parents for the beginning of our worship service and then move with their teachers into our Education Building after "The Story for All Ages." Classes end at 12:15 PM and parents pick their children up at the playground.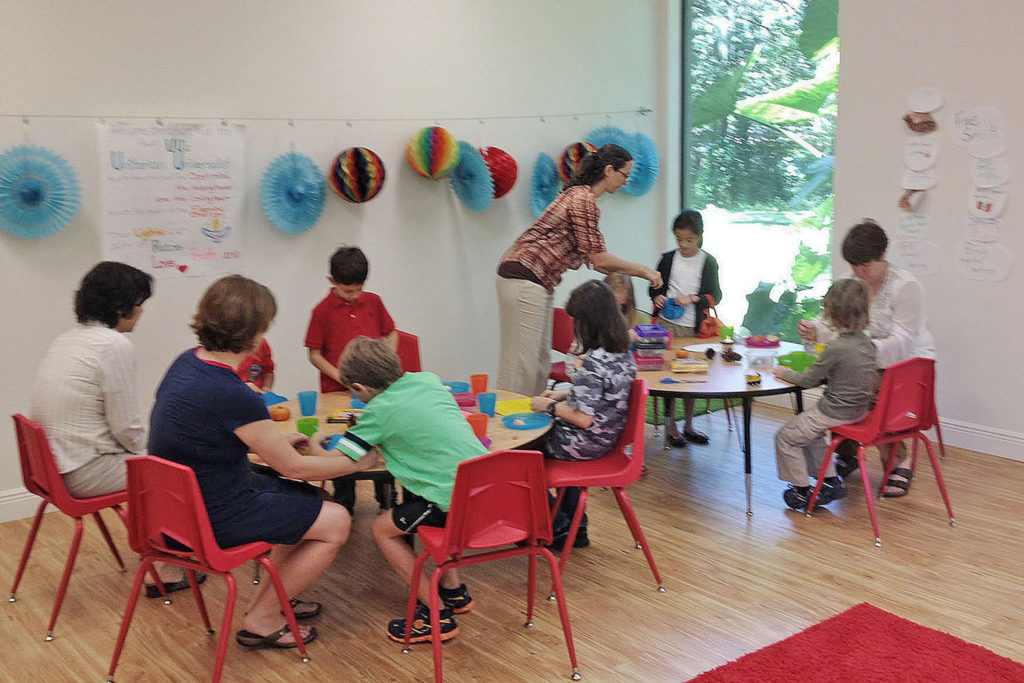 Nursery and childcare for those too young for our Religious Exploration program are provided during Sunday services. The nursery is located down the right hallway after you enter the sanctuary main entrance. 
If your child has special needs, please contact our Director of Religion Exploration at dre@uutampa.org before your visit so we can ensure your child's inclusion and safety.
Our Worship Service Unitarian Universalists gather in worship to find meaning and live more deeply. Worship creates connections within, among, and beyond us, calling us to our better selves, calling us to live with wisdom and compassion.
As you enter the Sanctuary, an usher will give you an Order of Service that includes announcements for the upcoming week. There is additional information about the UUCT on the table to the left in the foyer. Feel free to take any pamphlets of interest.
If you arrive after the service has begun, you may either enter the first-floor sanctuary quietly or go upstairs to our balcony. We like to have all of our seats filled, so feel free to find an open space, even if it is at the front or in the middle of a row.
Our congregation's worship service generally includes:
Words of welcome

Lighting a

flaming chalice

, the symbol of our faith

Music

, 

both instrumental and vocal and in a variety of styles

A time for lifting up the joys and concerns of the congregation

A meditation or prayer

Readings—ancient or contemporary

A sermon will be given by a professional minister, a guest speaker, or a member of the congregation

An offering, collecting financial donations for the congregation or for justice work in the community.
From time to time, worships incorporate holiday celebrations, multigenerational plays and pageants, longer musical performances, child dedications, and coming-of-age ceremonies. We offer childcare and learning programs for children and youth during the Sunday service.
After the service, please join us for coffee and snacks. We generally meet in our small dome, so just follow the crowd of coffee-seekers. Take a yellow "visitor" mug so that our members will know you are visiting and will greet you.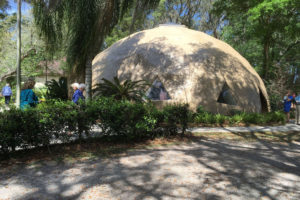 After your first visit, we will make a name tag for you; just ask for it the next time you visit. Also, check out our many activities listed on the pages in the middle of the Order of Service; participating in our special interest groups or social activities is a wonderful way to get to know the church and our members.
Answers to Some of Your Questions:
What should I wear to church?

 ……Come as you are. Come in whatever makes you comfortable. You'll see a range, from "Sunday best" to very casual.
Can I bring my children? ….. Religious education for youth and children is an important part of our mission. Children usually sit with their parents for the first few minutes of worship then go to their classes. At various times in the year, there are intergenerational services, when children and adults participate in worship together. For more information about our "Religious Exploration" program, click here.
Will you take up a collection? …….Yes, but we do not expect visitors to contribute. We invite you to be our guest!
What makes your church different from others? ……..There is no test of creed to join. Within our congregation, you'll find a diversity of belief. In our Religious Exploration program, we do not indoctrinate children by teaching them what they should believe. Rather, we try to spark their own curiosity about religious questions and provide them with the tools they need to make their own decisions.
Will I be pressured to join?      Absolutely not! We know that many people prefer to visit several houses of worship before they start making relationships. In fact, we want you to get to know us, speak with our minister, and attend a membership class before becoming a member of our church.
Is it true that your church is accepting of LBGT? ……….It's true. As a matter of fact, we've committed ourselves to actively welcome gays, lesbians, bisexuals and transgender people. That's earned us an LGBTQ Welcoming Congregation designation from the Unitarian Universalist Association. We have a number of LGBT people involved in our congregation and in leadership.
Is your building disability accessible? .……. Our current worship space is moderately accessible. Our Planning Committee has accessibility as a top priority. Click here for more information:  https://uutampa.org/who-we-are/accessibility/
How do I get my other questions answered? …………Please come to a Sunday service, contact membership@uutampa.org or call us at    813-988-8188.
GET INVOLVED! DONATE -- SHOP AMAZON.COM -- VISIT US SUNDAYS



When you shop at Amazon Smile you'll find the exact same shopping experience as Amazon.com be sure to to select

"Unitarian Universalist Church of Tampa"

Then, Amazon will donate a portion to UUCT out of their profit. Thank you for shopping Amazon via our website!
Please click this secure link to donate to UUCT or to buy event or concert tickets. Ticket buyers: enter the amount of your purchase in the appropriate box, and then provide the name and date of the activity you're attending. Your tickets will be held at the door.