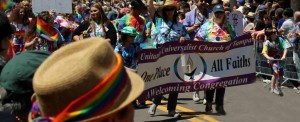 Questions on Social Action?  Contact us at socialjustice@uutampa.org or info@uutampa.org.
---
Curbing Gun Violence Team!
This group meets regularly once a month. Purpose: Organizing and planning on the issue of curbing gun violence and addressing gun violence as a health issue in Hillsborough County.
The work of this team includes monitoring the Florida Legislative proposed gun bills and urges our individual members to contact by phone and emails Senate and House members regarding their personal passion about these bills. We also urge our members to be in contact with Florida State legislators which include personal visits and emails during the "off-season".
We urge our individual members to write letters-to-the-editor of the Tampa Bay Times when there is national gun violence news and/or to comment on featured TBT columns.
In addition we are involved in a project devoted to developing an electronic educational packet on gun safety to be piloted in the UUCT congregation and then shared with congregations. We are in coalition and work closely with the Hillsborough County League of Women Voters, Safe and Sound Hillsborough, and Moms Demand Action.
Websites of interest: http://billinfo.leg.state,fl.us and http://uujustice.fl.org
---
Hillsborough Organization for Progress & Equality
Want to Make a Difference? Join UUCT's Justice Ministry!
Our church along with other congregations comprise the Hillsborough Organization for Progress and Equality (HOPE). Together we work for justice, fairness and equality in our community.
For the past two years HOPE has been working on the problem of unemployment in Hillsborough County. Working with Hillsborough Community College and the Florida Workforce Alliance, HOPE has been encouraging the development of Fast Track Training programs that can especially help alleviate the problem of unemployment among the 18 -25-year-old population. This year HOPE continues to identify unjust barriers to employment and seeks systemic solutions that will reduce the high unemployment in our community.
If you want to respond to the call to "do justice" and are willing to help, or just want to learn more about HOPE, please contact Judy Lane,  Marta Pearson, Diane Gainforth, or Christine Smith.
---
The Green Group . . .
What?:  The Green Group at the Unitarian Universalist Church of Tampa is an educational information-sharing discussion group.  Meetings are open to all.  Newcomers and drop-ins are welcomed. For further information, contact Tom Krumreich at  TomOnTheRiver@yahoo.com or Brad Bridgham.
Tell me more!:  The Green Group at UUCT has been meeting since fall 2007.  We are involved in Earth Day and local environmental action.  We have a foods ecology discussion topic ongoing.  There is plenty of room to explore and support your ecological interests.  We are currently a small, informal group.  We have an electronic list where we post announcements, local events, and environmental Websites.  To join our Yahoo group or follow our online postings, go to: http://groups.yahoo.com/group/UUCTGreenGroup/.
If you have the energy and time to help spearhead the Green Group, please let us know.
Mission:
To build awareness of societal environmental issues among UUs and friends in the community.
To support each other in making lifestyle changes that conserve natural resources.
To be an informed citizenry on environmental issues.
To build a connection between spiritual practice and environmental consciousness.
To build awareness of and rectify environmental injustices.
GET INVOLVED! DONATE -- SHOP AMAZON.COM -- VISIT US SUNDAYS



When you shop at Amazon Smile you'll find the exact same shopping experience as Amazon.com be sure to to select

"Unitarian Universalist Church of Tampa"

Then, Amazon will donate a portion to UUCT out of their profit. Thank you for shopping Amazon via our website!
Please click this secure link to donate to UUCT or to buy event or concert tickets. Ticket buyers: enter the amount of your purchase in the appropriate box, and then provide the name and date of the activity you're attending. Your tickets will be held at the door.