A Message from the Ministerial Search Committee
UUCT is in active search for a new, permanent settled minister. The congregation elected the seven-member Ministerial Search Committee (MSC) on April 6, 2014, to conduct the search for a settled minister. On May 16 and 17, 2014, the UUCT MSC met for the first time in retreat with Rev. Marni Harmony to begin work and bond as a team. There, the MSC finalized members' roles.
The MSC takes seriously the representation of this community in our search. So we have attempted to be as inclusive as possible while gathering data to help us address two key questions:
(1) Who we are as a congregation; and,
(2) Who we are looking for as our next settled minister.
Through an extensive survey and cottage meetings, plus discussions with individual congregants, committees, the Board of Trustees, our current Interim minister, and the Staff–in addition to digging into historical records–we have grown to know UUCT and ourselves in ways of great importance. Ours is a caring, supporting, loving congregation. The partnership we have with our next minister will help us build on our strengths and grow on our religious journey as individuals and as a congregation.
The MSC is on track to have a settled minister starting in the Fall of 2015.
More information about our search and the UUA search process can be found in these locations:
Monthly newsletter articles titled Spotlight on Search:  (https://uutampa.org/domelight-newsletter/).
UUA ministerial settlement process details can be found here:  (http://www.uua.org/careers/ministers/transitions/).
We invite you to contact the MSC by e-mail with your questions or input:  search@uutampa.org.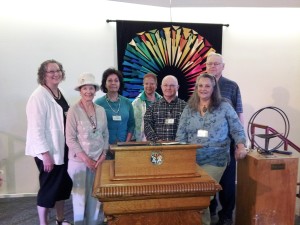 ---
We are your seven-member Unitarian Universalist Church of Tampa Ministerial Selection Committee, seen in the photo at left as we embarked on our months-long volunteer endeavor in May 2014. We are putting in many volunteer hours together to select a candidate who will meet the exacting criteria to become UUCT's next settled minister.
Your Committee members are, from left,
Elise Richardson, Secretary
Joan Lund, Chair
Ara Rogers, Survey
Marta Pearson, Fact Checker
Ed Benedict, Arranger
Mary Francis, Packet
Earl Harvey, Treasurer.
---
GET INVOLVED! DONATE -- SHOP AMAZON.COM -- VISIT US SUNDAYS



When you shop at Amazon Smile you'll find the exact same shopping experience as Amazon.com be sure to to select

"Unitarian Universalist Church of Tampa"

Then, Amazon will donate a portion to UUCT out of their profit. Thank you for shopping Amazon via our website!
Please click this secure link to donate to UUCT or to buy event or concert tickets. Ticket buyers: enter the amount of your purchase in the appropriate box, and then provide the name and date of the activity you're attending. Your tickets will be held at the door.