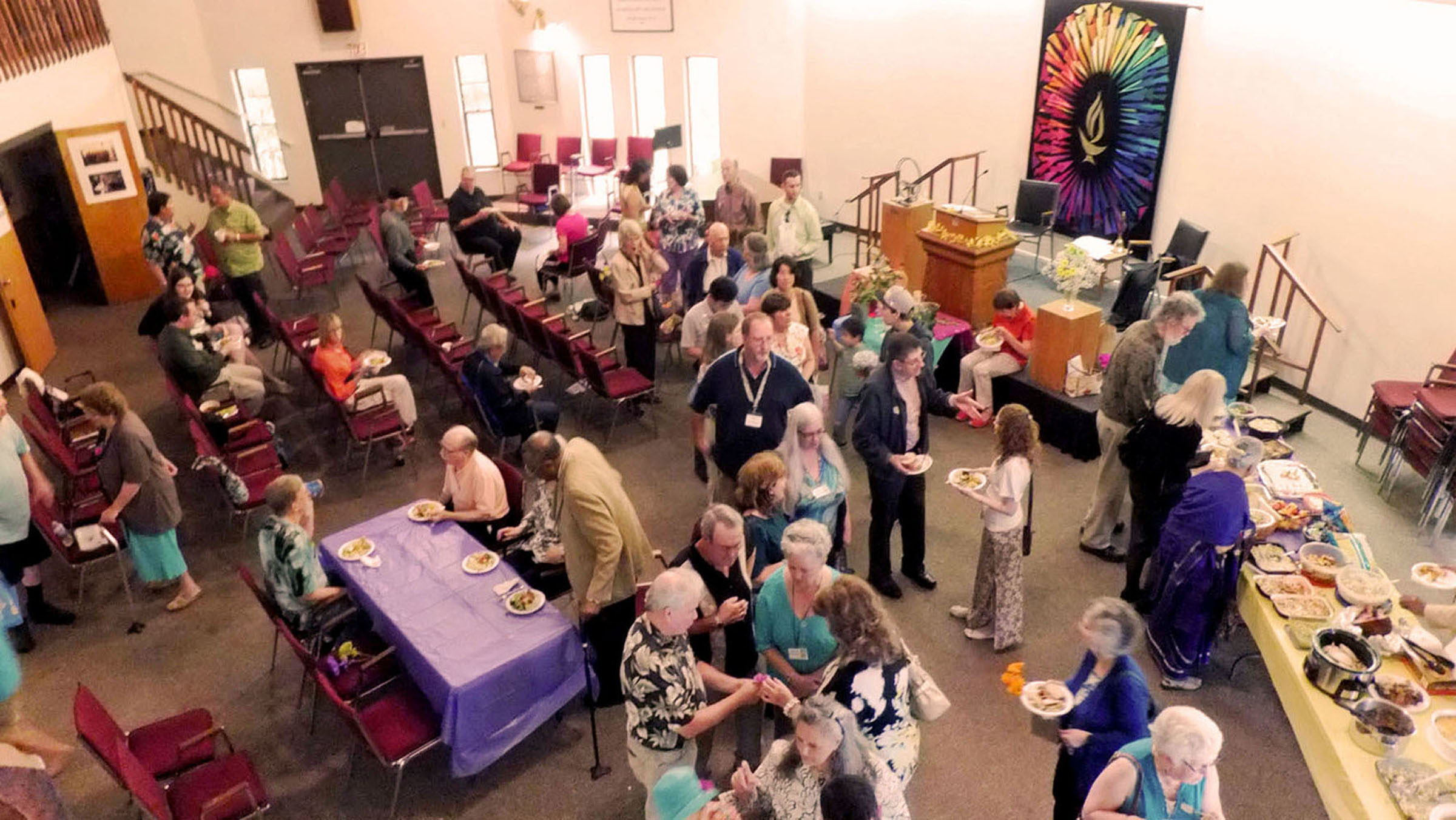 Whatever your hobby, avocation, passion, or intellectual pursuit, you'll find something for you at the Unitarian Universalist Church of Tampa. And if you don't, get something started!  Many of our existing clubs and committees were conceived and launched by individuals just like you.
At left, UUCT members are enjoying lunch at our Annual Fundraising Auction in the new Multipurpose Building (MPB). This is the site of many organized UUCT group meetings, our preservice Sunday morning Coffee and Conversation gathering, holiday dinners, and community meetings and events (yes, we rent out the MPB).
So, we invite you to get involved. A UU World of Opportunities for liberal education, social events, spiritual growth, and artistic and intellectual stimulation await you here in an accepting, nurturing, respectful environment.
All the groups at UUCT are open and welcoming. We invite you to check out the opportunities awaiting you at UUCT, and either find or make your own 'fit' within our congregation. Come see us. We think you'll like what you find — most people do.
Thank you for your interest in the Unitarian Universalist Church of Tampa!
GET INVOLVED! DONATE -- SHOP AMAZON.COM -- VISIT US SUNDAYS



When you shop at Amazon Smile you'll find the exact same shopping experience as Amazon.com be sure to to select

"Unitarian Universalist Church of Tampa"

Then, Amazon will donate a portion to UUCT out of their profit. Thank you for shopping Amazon via our website!
Please click this secure link to donate to UUCT or to buy event or concert tickets. Ticket buyers: enter the amount of your purchase in the appropriate box, and then provide the name and date of the activity you're attending. Your tickets will be held at the door.