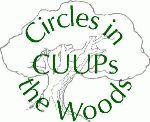 All Circles in the Woods CUUPS activities are open to the public and held at UUCT. The only cost is a love donation. Families with children are welcome but there is no childcare provided.  No pets please. Plan to stay to socialize afterwards.  Bring a dish to share. All are welcome who come in perfect love and perfect trust.
For more information about Circles in the Woods CUUPS, e-mail cuups@uutampa.org.
2018 – She changes everything she touches and everything she touches changes . . .  we are in the process of making changes so our Wicca 101 has been removed from our calendar until we have decided what will be offered in 2018.  Watch for lots of new stuff and lots of energy!

| | | | |
| --- | --- | --- | --- |
| Event | Date | Time | Details |
| Full Moon Celebration | Dec 30, 2017 | 7:30 pm | Come and celebrate the end of the year with Earthbound Coven, Noise makers and shakers are a plus…the louder the better… we will be raising energy as we count down the dropping of the cauldron to bring in the pre new years celebration,We look forward to ringing in the new year with you all |
|   | | | |
| | | | |
| Full Moon Celebration | Feb 3, 2018 | 7:30 pm | January Blue Moon |
|   | | | |
| | | | |
| Full Moon Celebration | Mar 3, 2018 | 7:30 pm | |
|   | | | |
| | | | |
| Full Moon Celebration | Mar 31, 2018 | 7:30 pm | March Blue Moon |
| Full Moon Celebration | Apr 28, 2018 | 7:30 pm | |
| Full Moon Celebration | May 26, 2018 | 7:30 pm | |
| Full Moon Celebration | Jun 30, 2018 | 7:30 pm | |
| Full Moon Celebration | Jul 28, 2018 | 7:30 pm | |
| Full Moon Celebration | Aug 25, 2018 | 7:30 pm | |
| Full Moon Celebration | Sep 22, 2018 | 7:30 pm | |
| Full Moon Celebration | Oct 27, 2018 | 7:30 pm | |
| Dumb Supper | Nov 1, 2018 | 7:00 pm | Ritual dinner to honor the dead. "Dumb" means silent; nobody speaks. Dumb Suppers are held by people all over the world in solemn remembrance of departed friends and loved ones. |
| Full Moon Celebration | Nov 24, 2018 | 7:30 pm | Bardic Circle – Bring your songs, stories, poems, and share.  Keep it family friendly!  Come early to shop at our annual Silent Auction as a church fundraiser. |
| Full Moon Celebration | Dec 22, 2018 | 7:30 pm | |