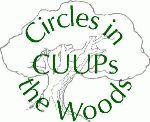 All Circles in the Woods CUUPS activities are open to the public and held at UUCT. The only cost is a love donation. Families with children are welcome but there is no childcare provided.  No pets please. Plan to stay to socialize afterwards.  Bring a dish to share. All are welcome who come in perfect love and perfect trust.
For more information about Circles in the Woods CUUPS, e-mail cuups@uutampa.org.
In the first quarter of each year, CUUPs presents a six-session Wicca 101 workshop.  All levels of knowledge and interest are welcome.
2017
Event
Date
Time
Details
Wicca 101
8 Jan 2017
1pm – 3:30pm
Herstory
Full Moon Celebration
14 Jan 2017
7:30 pm
Serenity Circle
Wicca 101
15 Jan 2017
1pm – 3:30 pm
The Goddess and the God
Wicca 101
5 Feb 2017
1pm – 3:30 pm
The Wheel of the Year
Full Moon Celebration
11 Feb 2017
7:30 pm
Circles in the Woods CUUPS annual baby blessing from the Goddess Bridget!  Bring the wee ones, no worries, everyone will drink from Her healing well.
Wicca 101
19 Feb 2017
1pm – 3:30 pm
Magick and Ethics
Wicca 101
5 Mar 2017
1pm – 3:30 pm
Ritual Basics
Full Moon Celebration
11 Mar 2017
7:30 pm
Celebrate Ostara with Lady PhyreStorm.  There will be an egg hunt so bring the wee ones!
Wicca 101
19 Mar 2017
1pm – 3:30 pm
The Working Circle
Full Moon Celebration
15 Apr 2017
7:30 pm
Wicca 101 graduate will plan and present this Full Moon Celebration ritual.
Full Moon Celebration
13 May 2017
7:30 pm
The Coven of
of the Forged Spirit will guide us in a celebration of Motherhood and all the gifts of from the dawn of creation that have been brought forth from this loving energy.
Full Moon Celebration
10 Jun 2017
7:30 pm
 Join Sacred Oaks Circle to help the fae save our trees.  All fairy's are welcome this night but no malevolent behavior!
Full Moon Celebration
8 Jul 2017
5:00 pm

7:30 pm

Meet up in the small dome for a Book of Shadows workshop with Tina and Venessa who will discuss the creation and importance of your book. Participants will also have the chance to make and take one home to get them started.

Serenity Circle and friends will lead a ritual honoring the bees during this, the Honey Moon.  Bees play an essential part in our ecosystem.  In this ritual, we will raise energy to help the bees continue to survive.  We will also hand out suggestions on practical things you can do to help the bees and learn about the sacred geometry of their famous honey comb shape.  Buzz on over and join us for a fun filled evening!

Full Moon Celebration
5 Aug 2017
7:30 pm
Join W.I.T.C.H. as we celebrate life, growth, death and rebirth, which have all come full circle.  Tonight, we celebrate this night with abundance of energy!!  The time of harvest is here!!!
Full Moon Celebration
9 Sep 2017
7:30 pm
Cancelled due to hurricane Irma!  Stay safe.
Full Moon Celebration
7 Oct 2017
7:30 pm
Shalee  Coven will lead us tonight as we  honor our ancestors. Those who have come before us and paved the way. We all have loved ones who have crossed over. Whether they are blood relatives, chosen family, or people we have grown to love as family. Our lives have been enriched by those that came before us.
Dumb Supper
1 Nov 2017
7:00 pm
Multipurpose Building Rooms 3 & 4. Ritual dinner to honor the dead. "Dumb" means silent; nobody speaks. Dumb Suppers are held by people all over the world in solemn remembrance of departed friends and loved ones.
Full Moon Celebration
4 Nov 2017
6:30 pm
Bardic Circle – Bring your songs, stories, poems, and share.  Keep it family friendly!  Come early to shop at our annual Silent Auction as a church fundraiser.
Full Moon Celebration
2 Dec 2017
7:30 pm
W.I.T.C.H.
2018
| | | | |
| --- | --- | --- | --- |
| Event | Date | Time | Details |
| Full Moon Celebration | Dec 30, 2017 | 7:30 pm |  Earthbound Coven |
| Wicca 101 | Jan 7, 2018 | 1:00 pm | Herstory |
| Wicca 101 | Jan 21, 2018 | 1:00 pm | The Goddess and the God |
| Full Moon Celebration | Feb 3, 2018 | 7:30 pm | January Blue Moon |
| Wicca 101 | Feb 4, 2018 | 1:00 pm | The Wheel of the Year |
| Wicca 101 | Feb 18, 2018 | 1:00 pm | Magick and Ethics |
| Full Moon Celebration | Mar 3, 2018 | 7:30 pm | |
| Wicca 101 | Mar 4, 2018 | 1:00 pm | Ritual Basics |
| Wicca 101 | Mar 18, 2018 | 1:00 pm | The Working Circle |
| Full Moon Celebration | Mar 31, 2018 | 7:30 pm | March Blue Moon |
| Full Moon Celebration | Apr 28, 2018 | 7:30 pm | |
| Full Moon Celebration | May 26, 2018 | 7:30 pm | |
| Full Moon Celebration | Jun 30, 2018 | 7:30 pm | |
| Full Moon Celebration | Jul 28, 2018 | 7:30 pm | |
| Full Moon Celebration | Aug 25, 2018 | 7:30 pm | |
| Full Moon Celebration | Sep 22, 2018 | 7:30 pm | |
| Full Moon Celebration | Oct 27, 2018 | 7:30 pm | |
| Dumb Supper | Nov 1, 2018 | 7:00 pm | Ritual dinner to honor the dead. "Dumb" means silent; nobody speaks. Dumb Suppers are held by people all over the world in solemn remembrance of departed friends and loved ones. |
| Full Moon Celebration | Nov 24, 2018 | 7:30 pm | Bardic Circle – Bring your songs, stories, poems, and share.  Keep it family friendly!  Come early to shop at our annual Silent Auction as a church fundraiser. |
| Full Moon Celebration | Dec 22, 2018 | 7:30 pm | |